Explore Partnership
possibilities that are
transparent, rewarding and
one-of-a-kind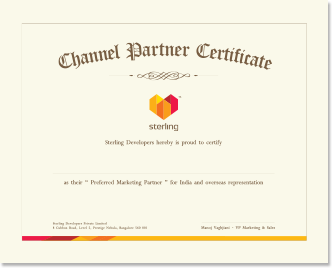 Mail us at: channelpartners@sterlingdevelopers.com
Please fill in the details below to initiate process for enrollment as channel partner
PARTNERSHIP CLUB
 Our Channel Partner Program is seamless, transparent, rewarding and one-of-a-kind. As a result, we have developed a 3 Tier Club Membership Scheme open to all the registered channel partners.
We are a channel focused company and consider our partners as an extension of our team. The program consists of three membership levels:



Be our strategic partner and you will be rewarded with additional payouts based on your performance. So join us now and know more on our Channel Partner Program.
ADVANTAGES
Continuous Channel Support to Our Partners through a Dedicated Channel Sales Team
Performance Incentive Programs & Special Schemes During Pre-Launches
Strong Realiable Business Processes for Mutual Growth& Success
Open, Honest, Proactive Communications
Enabling our Partners with Tools & Resources
CHANNEL PARTNER MEET – CREA (8 FEB 2014)
The elegant backdrop was a splendid setting for the Sterling & CREA, a business event at The Ritz Carlton, Bangalore on 8th February, 2014.
We thank all the CREA members & guests for making the evening very special & being a part of some enthusiastic discussion on our "Channel Sales Program".
Our three prominent speakers & moderator included:
Mr. Ramani Sastri, Chairman & Managing Director of Sterling Developers (P) Ltd.
Mr. Manoj Vaghjiani, VP – Marketing, Sales & CRM of Sterling Developers (P) Ltd.
Mr. Pradeep Joe, President – CREA, Bangalore.
Mr. Ramani Sastri (CMD – Sterling Developers) brought a unique story on "how the organization has always made great efforts to benchmark quality, customer centric approach, robust engineering, uncompromising business ethics, timeless values & transparency in all spheres of business conducted, which have contributed in making Sterling Developers a preferred real estate brand in Bangalore. Strategic planning has always been an integral part of the organizations functioning with a clear vision & mission".
Mr. Manoj Vaghjiani (VP – Marketing, Sales & CRM – Sterling Developers) introduced the Channel Partner Program & attractive incentive schemes to drive the program, identifying channel-wide trends, understanding the partner requirements & rewarding the current level of partner commitment & loyalty to our brand. Our audience made good use of the Q & A time, exploring the areas & measuring success.
Today we have successfully signed up with many channel partners & many more are in process. Channel Sales is a separate vertical at Sterling Developers with a dedicated channel sales team, available to assist the Channel Partners.
JOIN US TODAY/WRITE TO US AT:
channelpartners@sterlingdevelopers.com